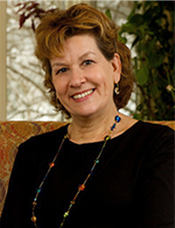 Amy has worked more than 30 years as a graphic designer and art director. Before starting Twistnshout, her own design firm, she was an art director at Young and Rubicam International, Inc. in New York, where she worked on such accounts as Gillette, General Foods, Warner Lambert, Dr Pepper and Johnson & Johnson. At Ogilvy and Mather in New York, her clients included Avon, TWA, Kimberly- Clark, Lever Brothers, General Foods, Hathaway, Clairol and Par Parfums. She also was an art director at WTAF-TV 29 in Philadelphia and senior art director at Weightman Advertising Inc. in Philadelphia.
Amy's goal at Twistnshout is to produce strategic, attractive, effective communications using high quality, big-agency talent at affordable rates.
Believing that each person involved in a project brings their expertise to the tasks at hand, her approach is collaborative, personal and thoughtful. Writers, photographers, project managers, marketing specialists, web developers (and yes, even the client!) are encouraged to be part of the creative process and she trusts each member of the team to be respectful of one another's specialty.
Recent projects reflect the increasing intersection between print and digital communications. For example, photographs, messaging and layouts produced for a print community report for the Brandywine Health Foundation have made their way into social media campaigns, email marketing and web pages. Additionally, these assets have been re-purposed for signage, direct mail fundraising and advertisements. This cross pollination of materials means that stakeholders receive consistent messages; additionally, the organization's investment in these assets is maximized.
Other Twistnshout clients include Princeton University Office of Admission, Delaware County Literacy Council, Gratz College, Senior Community Services, Wolf Performing Arts Center and the Contemporary Freudian Society.
For more information visit http://www.twistnshout.com/.