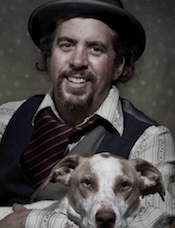 Matthew is an NYC based web and print designer. Since moving to New York in 2000, he has concentrated on working with clients in the arts and sciences. Recent clients include: the Continuum Ensemble, a new music group based in New York; the American Academy of Ballet, a summer school ballet program at Purchase College; Tango Meydl, a Yiddish Tango performance group; and Playing With Time, a traveling exhibit on phenomena that is too fast or too slow to see that opened in St. Paul, MN in February of 2002.
For Arkady Gendler's CD release "My Hometown Soroke", Matthew developed an English to alef-beys software tool that changes English transliteration into Yiddish characters and typeset the booklet in Yiddish, Yiddish transliteration and English. See Max and Minka's Brilliante Yiddish Transmognifier for a demonstration of the English transliteration to Yiddish characters tool.
For more information, visit www.matthewfass.com.